Hoeflon C4
Mini crane
Multifunctional,
robust and compact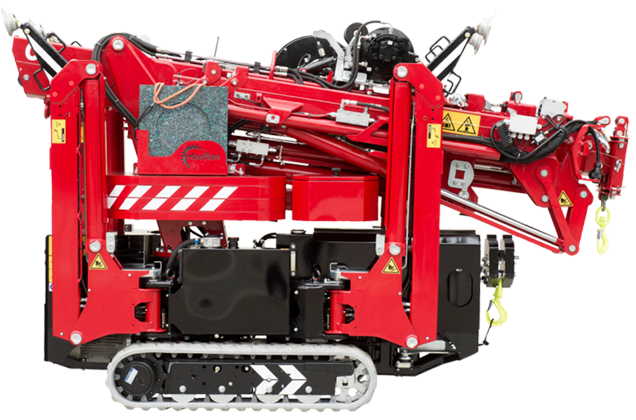 Multifunctional compact Hoeflon C4 Mini crane
Hoeflon C4 lifts up to 2 tons. Quite a capacity for such a compact crane. The transport flexibility is thanks to its expandable crawling track (75 to 110 cm) and the low centre of gravity. This makes it ultra-stable.
In addition, its new weight is so low that you can easily transport it on a trailer for vehicles with a reduced towing capacity. Finally, its compact dimensions mean you can take it anywhere.
C4e - Fully electric
The C4 is now also fully electric. With a 60% work cycle, you can run for eight hours with the crane. The crane charges in five hours. Charging and working at the same time is also possible. The electric version doesn't lose any speed compared to the diesel version, it's even runs a bit smoother.
The used battery cell is LiFePO4. This composition has many advantages. Especially the safety in comparison to other Li-ion batteries. LiFePO4 battery cells cannot ignite or explode during charging/discharging. The battery has a long service life and can often be discharged and recharged with minimal performance reduction. This composition is environmentally friendly because it does not contain toxic heavy metals. The cell also tolerates exposure to high temperatures.
This makes the C4 strong:
Passing through an inside door
Can be used on the top floor
Radio control
White crawler tracks available
Electricity and/or fuel
| | |
| --- | --- |
| Capacity | 2350 kg |
| Max. outreach | 11.7 m x 144 kg |
| Maximum hoisting height, incl. options | 15.1 m |
| Dimensions L x W x H | 2.8 m x 0.75 m x 1.82 m |
| Dimensions including winch and jib | 3.04 m x 0.75 m x 1.95 m |
| Total weight | 1900 kg and incl options 2150kg |
| Boom system | Cylinder and chain system |
| Boom angle | -5 – 83 degrees |
| Slewing | 360 degrees |
| Drive system | via remote control 1st gear: 1.2 km/h 2nd gear: 2.4 km/h |
| Engine | Yanmar 3 cylinder, 1500 rpm |
| Incline angle | 20 degrees |
| Ground pressure | 0.59 kg/cm2 |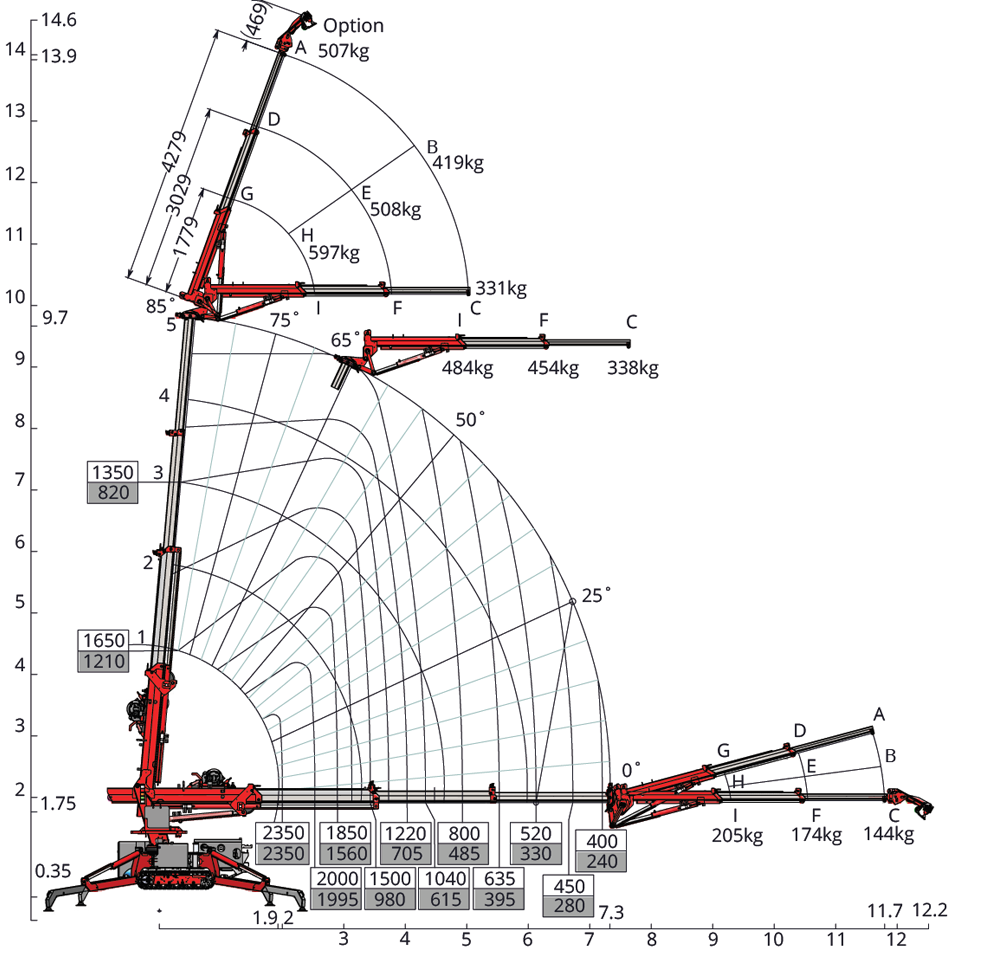 Electric motor

230 V 

Fly jib

4.3 m

Hoisting winch 

1000 kg, 2000 kg 

Extension section

30-degree range of motion

Levelling jacks

position measurement values for steplessly swivelling jacks 

Levelling jacks 

slewing

hydraulically extending
stepless

Tracks

non-marking

Lighting

work light on boom and jib

Storage box

extra storage case

Actuator

900 to 1700 rpm
Hoeflon VL500 Glass Suction
360-degree rotation with 90-degree stop
Double vacuum circuit for maximum safety
500 kg capacity (with 3 suction)
250kg capacity (with 1 suction)