Hoeflon C6
Mini crane
Powerful all-round crane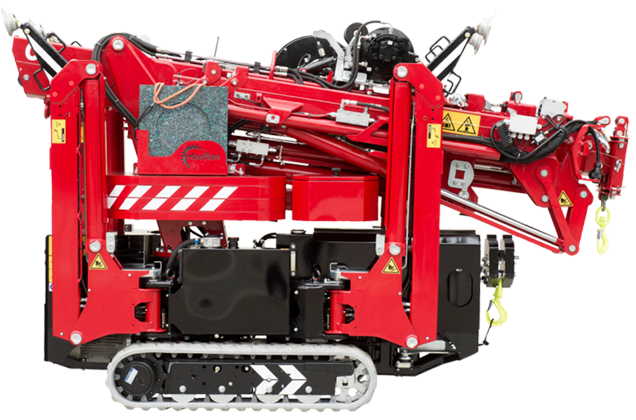 Hoeflon C6 Mini crane - a powerful all-round crane
Multifunctional, robust and very simple operation – it's the Hoeflon C6 compact crane in a nutshell. It is a best seller in the category mini crane. This crane is ideal for the placement of glass and the exact placement of steel beams.
It is the only compact crane that can lift more than its own weight. This allows a crane to lower another crane into an underground space.
This mini crane shows its strength by being small and compact, but with an impressive lifting capacity. With its 76 cm in width and 195 cm in height (can make lower when dismantling equipment), the crane is perfect for driving into buildings or backyards where there is not much space.
The crane and its remote control are logically constructed and make it easy to operate. The flyjib is mounted so it just needs to be unfolded and then it is ready for use. It provides a quick erection or moving of the crane.
What makes the C6 Compact crane strong:
Up to 17 metres of lifting area

Can get anywhere/ through any door

Easy to transport: take it on a trailer and start your work on arrival

Reliable / Many years of experience

'Smart' cranes -intelligent software - easy operation of all functions
| | |
| --- | --- |
| Capacity | 3000 kg |
| Max. outreach | 13.7 m x 210 kg |
| Maximum hoisting height | 11,5 m and 17 m with options |
| Dimensions L x W x H | 2.9 m x 0.75 m x 1.82 m |
| Dimensions including winch and jib | 3.14 m x 0.75 m x 1.95m |
| Total weight | 2650 kg 2850kg incl. options |
| Winch | 1000 kg, 2000 kg and 3000 kg |
| Boom system | Cylinder and chain system |
| Boom angle | -5 – 83 degrees |
| Slewing | 360 degrees |
| Drive system | via remote control 1st gear: 1.1 km/h 2nd gear: 2.2 km/h |
| Engine | Yanmar 3 cylinder, 1500 rpm |
| Incline angle | 20 degrees |
| Ground pressure | 0.79 kg/cm2 |
| | |
| --- | --- |
| Electric motor | 230 V  |
| Fly jib length | 4.3 m |
| Hoisting winch  | 1000 kg, 2000 kg and 3000 kg |
| Extension section | 30-degree range of motion |
| Levelling jacks | position measurement values for steplessly swivelling jacks  |
| Levelling jacks  | hydraulically extending |
| Tracks | non-marking |
| Lighting | work light on boom and jib |
| Storage box | extra storage case |
| Actuator | 900 to 1700 rpm |
Hoeflon VL500 Glass Suction
360-degree rotation with 90-degree stop
Double vacuum circuit for maximum safety
500 kg capacity (with 3 suction)
250kg capacity (with 1 suction)