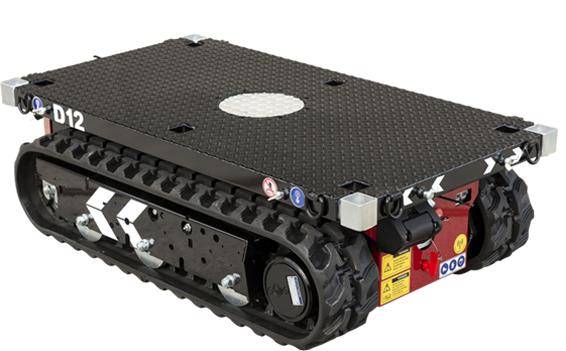 Transport Carrier
Hoeflon TC1
Compact, strong and robust
Transport Carrier
Hoeflon TC1
Compact, strong and robust
Hoeflon TC1 carrier
Hoeflon TC1 carrier is the solution for horizontal transport of long, heavy building materials and equipment on a project site. It is a battery-powered transport platform with unimaginable possibilities.
The TC1 platform is mounted with a swivel ring with a rotating plateau that can rotate indefinitely. It offers great possibilities when transporting beams, stairs etc. The TC1 conveyor has a low center of gravity and precise maneuvering. It runs easily around different ground levels and hilly terrain, even with a load.
TC1 can also run on very steep inclines. It is an ideal machine in combination with the Hoeflon C1 crane.
It is designed with various cane holes and extension arms. This ensures that the goods are stable during transport. It also makes it easier to construct specially designed racks, glass stands and the like.
Our carrier, Hoeflon TC1, can pass through any door. No matter where your goods are, our little helper carrier will be there.
Rent Transport Carrier Hoeflon TC1 at Preston Rentals - fast delivery!

TC1 in brief
Compact, strong and robust

Precise maneuverability

Easy to install cargo parts

The platform is movable / swivel

Quiet operation, due to the electric drive
Standard configuration
| | |
| --- | --- |
| Capacity  | 1,200kg |
| Net weight |  500 kg |
| Dimensions (lxwxh)  | 1450 x 800 x 420mm |
| Drive  | Electric |
| Power supply | Battery pack |
| Charger | 230V 50Hz |
| Charging time | 13 hrs |
| Ground pressure | 0.15kg/cm2 |
| Max. speed  | 2.2km/h |
| Speed controller | Proportional operation |
| Max. slope angle |  25° |
| Max. tilt angle |  20° |
| Load platform (lxw) |  1340 x 730mm |
| Type platform | Swivel |